"A little sister always looks up to her big sister, no matter what age you are," says actor Kristen Bell. To show her appreciation for her Detroit-based big sis Sara — a mom of four who has little time to focus on her own needs — the Veronica Mars star and voice of Frozen's Anna treated her and her family to a full-on basement remodel. "She's honestly, in my eyes, a superwoman," Bell says.
BEFORE: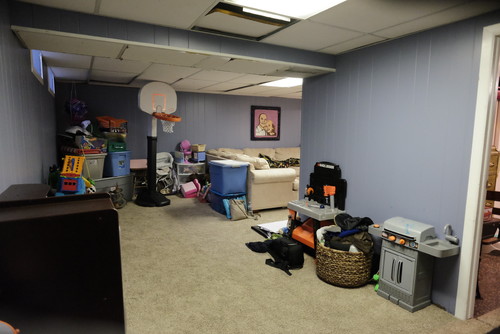 The Detroit home, built in the 1960s, has three bedrooms and one bath, plus a huge basement that needed some TLC. So Bell decided to focus her efforts on the basement, which was a hodgepodge of unfinished and finished spaces that had been somewhat remodeled over the years. The layout was inefficient and not especially inviting. "Sara hasn't had the time to re-imagine it for the kids," Bell says. "I wanted to figure out a way to maximize the house and make the basement someplace they would all gravitate towards."
AFTER: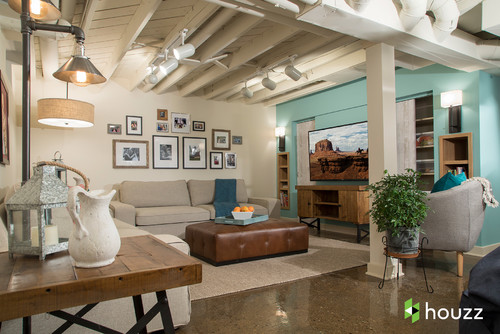 The design and the construction teams gutted the basement, removing walls to create a more open layout. The style they decided on is what designer Melissa Kennedy of Meadowlark Design+Build calls "simplified traditional." "Warm colors, warm textures, nothing too cool, comfortable furniture, nothing too froufrou or overly ornate," she says.
Kennedy removed the drop ceiling and painted the exposed rafters a light color to help brighten the space. "That extra eight inches really helps increase your perspective," she says. The floors are refinished concrete.